Whatever your questions or concerns about writing, whatever writing problem you want to solve, you've come to the right place. Whether it's help with writing fiction, breaking through writer's block, crafting articles that sell, or the all-important art of editing and revising, Donna Ippolito offers the guidance and tips you can only get from a pro.

Ippolito knows how editors think. She has edited the books of well-known writers like novelist Anais Nin and literary critic Allen Tate as well as those of first-timers who went on to become best-selling novelists. She was the editor of every single novel in the Classic BattleTech series, a publishing phenomenon consisting of 75 interwoven novels set in the 31st century. These novels were published between 1986 and 2002, first by FASA and later by Roc Books.

She also edited the complete set of 40 Shadowrun novels, another group of interwoven novels set in the cyberpunk-urban fantasy world of 2050 and beyond. The Shadowrun novels were published by Roc Books between 1991 and 2001.

Ippolito has also acquired and edited just about every kind of fiction and nonfiction material, from self-help classics like the Creative Journal and The Wounded Woman to the true-life adventure of finding the Loch Ness monster. She has also worked for magazines like Consumer Guide and Consumers Digest, teaches business writing, and has edited medical, technical, and legal material.

Based on the millions of words she has edited, Ippolito knows that editing (revising) is the true art of writing. She believes that anyone with enough passion, persistence, and determination can learn to write well. Yes, you need talent. Yes, you need imagination. Yes, you need to love language for its own sake. But you also need to know your craft, because writing is both a skill and an art.

Today, Ippolito teaches fiction and nonfiction writing through "Breaking Into Print", "Shape, Write and Sell Your Novel", and "Basics of Writing Stories and Articles for Publication", three accredited courses offered by the Long Ridge Writer's Institute. She is also associated with Powersuasions, a consultant to major U.S. corporations on business writing.

In 2003, Ms. Ippolito's investigative article on how the nation's top 100 charities spend their donation monies appeared in Consumers Digest. As a senior editor for the magazine, she also acquired and edited articles on funeral fraud; the truth about long-term care insurance; warehouse-club buying; how to avoid pest-control rip-offs, and others.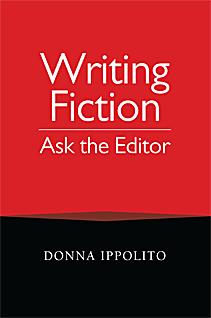 Writing fiction is both art and craft. Art may come naturally to the genius, but the rest of us rely on craft. In this book, Donna Ippolito draws on 25+ years as an editor of best-selling mass market fiction as well as literary fiction to answer questions real writers ask about finding ideas, overcoming writers block, plotting, character development, revising, getting published, and much, much more. Whatever the quandary or query, its craft to the rescue in writing fiction.
Order your copy of Writing Fiction: Ask the Editor by Donna Ippolito

Testimonials:
With Donna's help, I have a much better understanding of the way a writer's world works. I'm excited by the prospect of getting articles and stories published, something I could barely conceive of two years ago.—B.C., Carmi, IL
Working with Donna is one of the most rewarding things I have ever done. I've learned so much about the craft of writing. —T.R., Hallstead, PA
Donna's counsel and guidance have allowed me to grow as a writer. While my craft is far from "perfected," I've gained enough confidence to keep writing and submitting. —D.B., San Francisco, CA
I have enjoyed Donna's comments on my stories, directing me to a better way or the right way to do or say something. It has given me encouragement to look deeper into the craft of writing.—M.N., Casa Grande, AZ
Donna has given me more input than the three other courses I've studied put together. —A.F., Nashville, TN
Working with Donna has been enriching. My thanks to her for showing me the joy of learning to write well.—M.Z., Mount Arlington, NJ